Farm Loans
Whether you are a small farm or a large ag operation, we strive to make a meaningful difference for the clients and communities we have served for over 110 years. If your farm is looking to expand, renovate, build new structures, purchase farmland, buy livestock, equipment, or any other item, we are here to help you grow.
Many of Ergo Bank's employees and loan officers come from an agricultural or rural background, allowing them to understand the time, energy, and dedication that goes into managing an ag operation. You can even find some of our employees trading in their professional work shoes for a pair of barn boots at the end of the day. With putting in long days and nights, we recognize the challenge it can be to physically make it to the bank, which is why we offer online banking and mobile banking to help you manage your farm from the seat of your tractor. Our ag loan officers want to see your ag operation, connect with you, and build a farm-based relationship to better equip themselves to understand your needs and dreams to help your farm grow.
Our Approach to Lending
Are you looking for a reliable, trustworthy, and caring team to work with to help your farm grow? Look no further! Customers seek agricultural loans from Ergo Bank due to our on-the-farm service, which is the number one feature customers have expressed that attracted them.
Our ag loan officers provide a true lending experience and a dependable relationship. At Ergo Bank, customers can find traditional lending with customer relations that makes them feel taken care of. Lenders take the time to analyze numbers and data to comprehend what is best for your ag operation.
Between planting season, fixing equipment, harvest season, and managing your ag operation, our agricultural loan officers understand the difficulty of getting to the bank. Ergo Bank's loan officers are flexible to meet with you over the phone, by email, via Zoom, in-person at one of our branches, or they can come to you.
Our ag loan officers have many years of experience and a vast amount of knowledge of agriculture.
Why Choose Ergo?
We are a proven, trusted partner for over a century.
You can rely on our service to ensure you and your ag operation are well taken care of.
Our lenders have over 90 years combined of strong agricultural knowledge.
We offer competitive terms, rates, and leasing. Ready to get a loan? Contact us now.
---
Agricultural Loans Ergo Bank Offers
Short and Long-Term Loans
Looking for a long-term fixed rate loan? We offer loans to help ensure your ag operation is set up to succeed financially. Ergo Bank offers fixed rates for both short-term and long-term loans for all your agricultural needs. For additional information regarding our in-house loans give us a call today at 920-398-2336 or 920-928-3161.
Operating Loans
Ergo Bank realizes that before making an income, crops and livestock must be paid for. We can help you manage your cash flow by gaining access to working capital so you can focus on keeping your farm going and growing. Long-term fixed rates are offered along with a revolving line of credit. Ergo Bank works with FSA guaranteed loans and Farmer Mac (government programs) to offer these rates. We can work with you to meet your needs to ensure your ag operation is financially managed and looked after.
Line of Credit
Ergo Bank offers a line of credit that has built-in flexibility and helps with day-to-day expenses for your operation. A credit limit is obtained, giving qualified borrowers an amount to which they can borrow through having a credit line. Interest is only paid on the funds you use and not the entire credit line. With a line of credit, you can keep your ag operation running with the freedom to access funds anytime you need to up to the amount available.
All agricultural loans are great options, but we want to help you find the right loan for your farm. Contact us today to get started.
What We Finance
Farmland
Equipment
Livestock
Facilities
Crops
Leases are another option Ergo Bank offers. Learn more about leasing today.
Programs Ergo Bank Offers
Beginning Farmer Program
Starting a farm or ag operation takes a great amount of work and money to build it up. That is why the Beginning Farmer Program may be the perfect choice for you. Ergo Bank, in conjunction with the Farm Service Agency (FSA), provides the Beginning Farmer Program.
Access to capital to make renovations and improvements for your ag operation, purchase land with low down payments, and long-term fixed rate loans are all options offered through Ergo Bank, together with the FSA, for this guaranteed loan through the Beginning Farmer Program.
50-50 Program
Together with the FSA, Ergo Bank offers the 50-50 program. 50% is lent by the FSA and the other 50% is lent by Ergo Bank. If you are not a first-time farmer or do not qualify for the Beginning Farmer Program but are still a farmer, this could be the right option for you! Contact us today to learn more!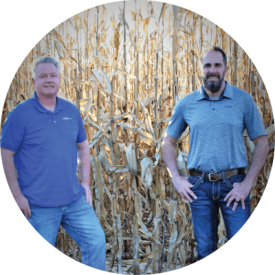 We're Here to Help
Paul Curran (NMLS #744674) brings 35 years of experience in farm loans to the table. He grew up next to a farm assisting with a variety of daily chores. Paul takes pleasure in getting to know customers. He is fond of getting out and going to the customer to see their farmland, equipment, buildings, and livestock. Seeking to find ways to enable farmers to succeed is what Paul strives to do. Get started today by calling Paul at 414-430-3214.
Kevin Doherty (NMLS #475377) grew up in and has remained involved in the agricultural industry. Growing up, Kevin's family had a farm with a variety of animals. He cherished showing livestock and loves beef cattle. He is the treasurer for the World Beef Cattle Expo. With 32 years in the ag industry and 20 of those years in ag loans, Kevin understands the busy schedule of farming, as he and his family raise and exhibit competitive show pigs. Kevin is devoted to building relationships with customers and does not see customers as a number. He would enjoy working with you and is more than willing to come to you! Call Kevin at 920-342-4714 to get started today.
John Sullivan (NMLS #461444) has 30 years of financial experience with farm loans. Raised and working on his family's dairy farm through college, John has an extensive background in agriculture. John goes to meet with customers, bringing his well-rounded knowledge and experience in banking to assist them. Establishing and maintaining that trusted relationship with generations and years to come is what John focuses on. He enjoys exchanging stories with farmers. John would be glad to work with you, give him a call at 1-920-410-2820.
Contact us today for a true lending experience
What's The Next Step?
Fill out the information below
Submit the form
Paul, Kevin, or John will contact you as soon as possible to assist you